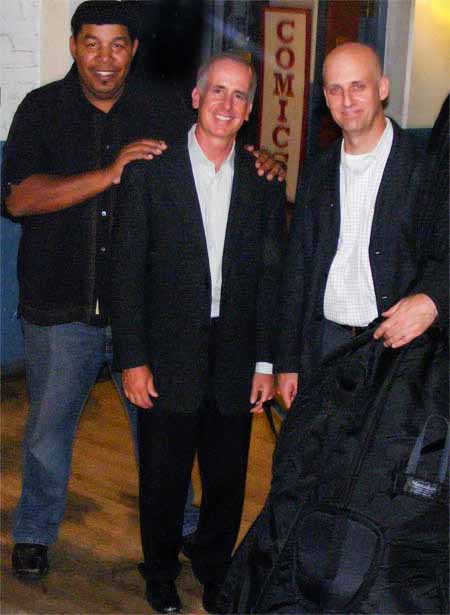 DeadWax Trio: from left, Wayne Porter, drums, Jon Reingold, piano, Troy Kendrick, bass.  
DeadWax is a both a classic jazz piano trio and a rhythm section set to support our favorite horn players and singers at a moment's notice. Formed in Seattle in 2006 the group consists of Jon Reingold on piano and Wayne Porter on drums and Troy Kendrick on bass. We recorded a full length album with singer Joni Wilm in 2010 and have collaborated and performed with a variety of great local jazz musicians in clubs and private events around the Puget Sound.
As a trio, we serve up a tasty platter of standards, hardbop and our original compositions true to the tradition. Have a listen and give us a shout.
---
What is "DeadWax"? Okay, go find a record. Now gently slide it out, hold it by the edges and behold its beautiful vinyl soul. If you look towards the center, there's a little space between where the grooves stop and the label begins. This, my friends, is the DeadWax. If you're a collector you know this already, because etched in it is lots of useful information. Geeky? Maybe, but spend a day listening to Hank Mobley on various Blue Note pressings and you'll soon become obsessed with the info and hipness that resides in the DeadWax.